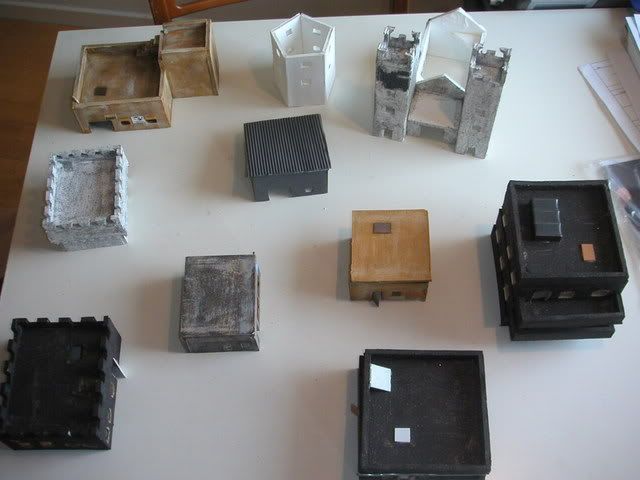 The majority of my buildings in various states of manufacture. Some are basically finished others need alot more work.
I use (don¥t know the name in english) but it is cardboard- foam-cardboard 5mm thick for the buildings. Cut it, glue it with whiteglue and then paints it with "structure paint". Structure paint is like a paint with sand in it, it covers small mistakes and so very nicely. Very easy, very quick. After that I paint it the color I like and then wash and drybrush. Stick details on it to make it look abit more "lively" and it is done. I use details like little pieces of wood/cardboard under windows, posters on the walls, doors, junk leaning against the walls and such.
Some of my houses have detachable roofs. These buildings will get a simple interior. I have printed out wallpaper and floors from textures found on the internet. It will look quite good I think with "marble floor" and wallpaper!
I will build some movealbe barricades from junk to use as roadblocks that pesky insurgents and civilian mobs can build to block roads.